TASSOS BEACH & RESTAURANT [63]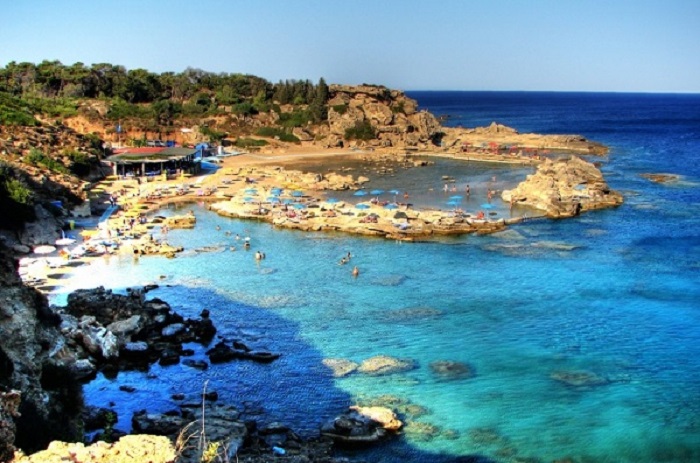 ON OUR MAP: 63
Kokkina beach (or "Tassos beach") is next to Kallithea οn the north-eastern part of Rhodes.
It has a mix of sand and rocks. There is a large sand beach section with sun lounges and sunshades. Most of the bathing takes place from the rocks. The water is really clear and the place ideal for snorkeling. The beach is rarely too crowded and it is therefore a good alternative to Anthony Quinn's and Ladiko (very popular beaches in the area). A great place to spend a day or an afternoon and evening.
Beach with seaside taverna. A place to spend hours swimming & sunbathing.

Great for dinners & night swims, too.

Fish, salads, legumes, vegetables.
We say: €€€ • 8/10 TripAdvisor
8 km from Rhodes town / ADDRESS: Kallithea / TEL: 6943845936
---
IF YOU PREFER NOT TO DRIVE:
► A TAXI called to pick you up frοm the hotel will charge €20 (each way). Taxis, if found "on the road" chagre €13 - €15 (each way).
Christos, our regular driver, can pick you up from St. John's Gate.
He will first drive you to Tassos Beach to show you where you will be later picked up from.

He will then drop you off 200m. away, at the entrance of Kalithea Springs.

After visiting Kalithea, you can walk back to TASSOS BEACH for swimming, dinner etc.

Contact Christos again 30 min. before the time you wish to leave.

He will pick you up from the spot he had shown you earlier.
Payment is made to the driver. Taxis in Rhodes do not accept Credit Cards.
► PRESS TO SEND CHRISTOS A TEXT MESSAGE, or call him on +30 6946103929.
---
► TAKE THE BUS. It costs €3 each way. The bus-stop is a 5min. walk from the hotel & the ride lasts 15min. Press on the links below: