THE PALACE & THE BYZANTINE MUSEUM [08]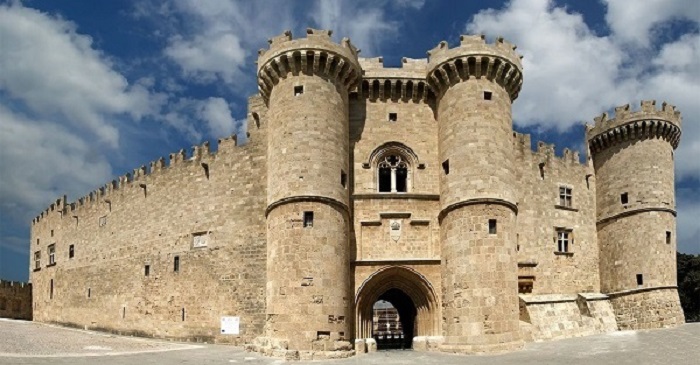 ON OUR MAP: 08
The Byzantine Museum is in the (now rebuilt) Grand Master's Palace, at the top of the street of the Knights. Important exhibits in a very impressive environment.
Opposite the palace, amongst ruins from different historical periods, one can see parts of the ruins of the Knights' Cathedral of St. John. The church was destroyed in 1856 by a large explosion of gunpowder hidden in its basement. Most of the important buildings of the Medival Town (including the Palace) were also blown to the ground.
Ask us or your guide for the interesting details that lead to the explotion.

In this same place (below the Acropolis of Ancient Rhodes) originlly stood a Temple of the Sun God. A Byzantine Palace was built in the 7th century. The Knights built the palace in the 14th century as their administrative center and residence of their Grand Master.
►Try to exit the Palace before 15:00, to start the WALK ON TOP OF THE WALL .
HOURS: April - Oct. 08:00 - 20:00 (all days)
Nov- Mar 08:00 - 15:40 (all days)
ENTRANCE: € 6
"PACKAGE TICKET" : €10. It covers the Arch. Museum, Palace of the Grand Masters, Our Lady of the Castle and the Decorative Arts Collection.
ADDRESS: Street of the Knights (top) / TEL: 22413 65270
Both navigators: Tap on

for walking,

for driving. Google Maps: not reliable when driving