KALOPETRA CHURCH [43]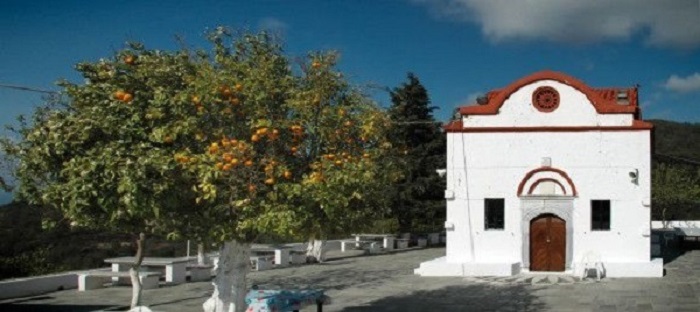 ON OUR MAP: 43
A lovely, cool place for a short break. The view of the Aegean and the islands is magnificent.
Surrounded by an unspoiled pine forrest, built in 1780 on a slope above the valley of Butterflies, lies the monastery of Panagià Kalopetra (the Virgin of Kalopetra). It was founded by the prince Ypsilantis during his exile in Rhodes. He was engaged in various wars against the Ottomans.
There are two contrasting stories involving the founding of this small monastery. One narrates that Ypsilantis brought here his daughter to cure her from tuberculosis, as the water that sprung from a nearby rock was considered to be therapeutic. In gratitude, he founded the monastery, giving the name of Kalopetra that in Greek means "good stone". According to the other story the prince built this monastery after having survived a terrible sea storm with his two sons. The legend says that Ypsilantis saw a divine light emanating from the area of Kalopetra that helped their ship to reach the land safely.
Kalopetra is at the upper end of the Valley of the Butterflies. The valley from July until late September gets filled up with millions of multicolor butterflies. They gather in the valley due to its microclimate, to feed and multiply.
28 km from Rhodes Town
Both navigators: Tap on

for walking,

for driving. Google Maps: not reliable when driving